Wanting To Get Out Of Credit Card Debts?
How to get out of credit card debts?
Credit cards are very common in Singapore, and no one can diminish their benefits when additional efforts are in place for integrating electronic payment systems into our country. Not only does it create convenience, but we are also rewarded for using these credit cards through cash backs, air miles, or reward points.
However, more Singaporeans are getting into credit card debts because of the availability of high credit limits and the flexibility of paying through installment plans. This is due to the lack of affordability in the present moment, which leads many into the debt trap.
Implications of being in Debt
A late payment fee will be charged when we fail to pay even the minimum amount due. If the minimum amount due is paid (usually around $50 or 3-5% of the outstanding debt), the interest of approximately 24% p.a. on average will be charged on the outstanding debt.
The table below shows how much interest is accumulated based on an outstanding balance of $10,000, assuming no additional spending is being charged to the credit card.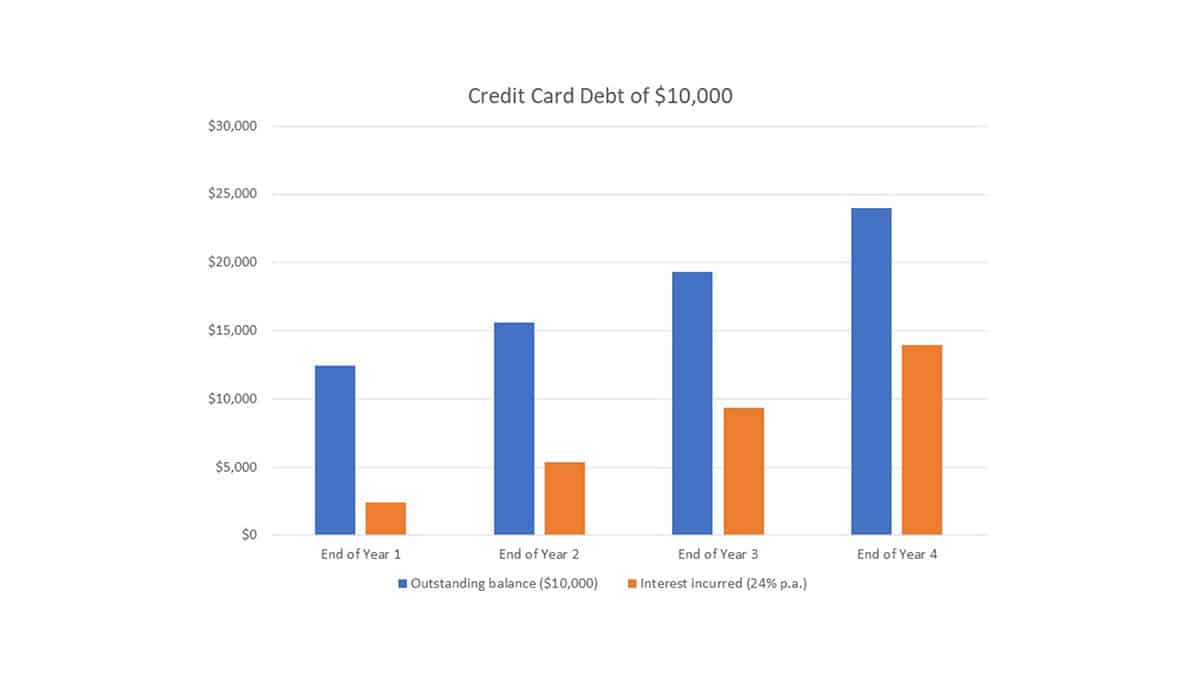 As we can see, within a short span of 4 years, the total interest incurred has gone above the initial amount spent of $10,000.
In addition to being heavily in debt, you will risk having a low credit score in the credit bureau system. An individual with a lower credit score would indicate a risky borrower with a higher likelihood of defaulting on a payment. Having a lower credit score usually happens when one misses out on payment due date, has a high credit balance, or has too many credit accounts. As such, it affects one's ability to get any cash loans, employment opportunities at the upper management level or in the financial industry. According to the Ministry of Law, if an individual cannot repay their debts that are greater than $15,000, it can lead to bankruptcy.
Getting out of the Debt
To avoid accumulating debt and its' accompanying pain, you need first to access the situation and search for solutions to get rid of your debt before it becomes an even bigger problem.
Strategic Planning
Get a clearer picture of your situation by consolidating the total sum of all the amounts you owe on each credit card in a list. Do not be tempted to borrow from banks or licensed moneylenders to pay off your debts, as with further incurred interest, and it will be harder to clear your debt in the long run.
Evaluate your finances
Using your income, deduct away the expenses for daily necessities. If the amount is positive, check if it is sufficient for a monthly repayment to clear your debt. Else if insufficient or negative amount, look through your monthly expenses again to find ways to reduce your costs.
Raise money from your assets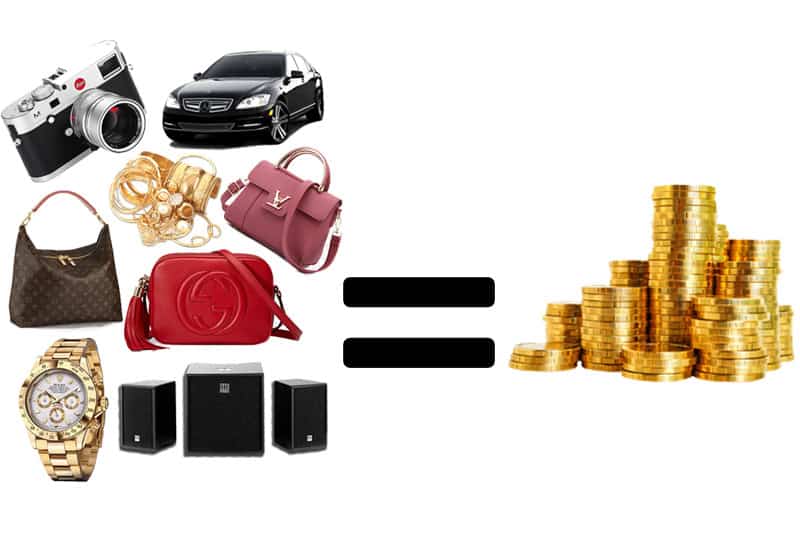 Look around your house for any valuable assets you own that can be sold to second-hand stores. For example, your car, branded bags, reputable watches, cameras, jewelry, and audio equipment can be sold for money. You may also put up other items or goods of yours on the consumer-to-consumer marketplace listing e.g. Carousell.
As a last resort, you may want to consider tapping on another crucial asset – which is your insurance policies. Most insurance policies require ongoing premiums to be paid, which often adds to your expenses, plus they have a cash value payout when ceased. Thus, you can get back a significant sum of money by surrendering your insurance policy. However, you may also consider selling your insurance policy to a third-party vendor or broker like REPs Holdings, as they can pay a higher amount than the surrender value.
Conclusion
After discussing the implications of credit card debts, it will be wise to clear your debt as soon as possible. You can put yourself in a better financial position by not prolonging the debt and its pain through accessing your situation and letting go of certain assets. After all, no one likes being in debt or wants to be in debt by choice in the first place. Note that if you intend to let go of assets like insurance policies, you contact Reps Holdings to find out how much more value you can get out of your policy.